Affinity
Solid Surface
Has All The Features
You
Dream
For In A
Perfect
Countertop.








But It's More Than Just Fancy
Buzz words.
It's
Superior
In Almost Every
Way
.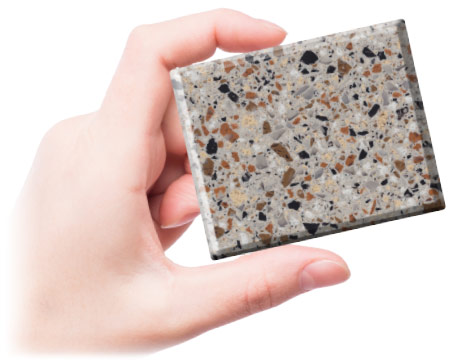 Solid Surface is The Superior Choice...
And Here's Why:
Affinity Solid Surface is not only one of the most beautiful types of surfacing material found on the market today, but it is also completely renewable and can be repaired if accidentally damaged. No other material can boast these renewability factors. Affinity is also resistant to stains, bacteria, and heavy impact. All of this coupled with easy care and maintenance, and you can see why Affinity is the surface of choice.
Solid Surface Isn't Just Descriptive.
It's A Unique Countertop Surfacing Option.
Affinity Solid Surface is a surfacing material composed of natural fillers plus acrylic and polyester based resins. When formed with intricate chip patterns, rich colors, and balanced with tones and shades meant to fit today's definition of modern surfacing design, it's no wonder solid surface is a popular pick for homeowners looking for a superior countertop.
Browse The Complete Collection